Specialist in all types of Gas Springs
We offer the following products :
As a manufacturer of gas springs, tension springs, locking gas springs, we try to offer the best possible service and quality. We offer you a range of standard type gas springs but can also assist you with custom solutions, you can be sure that we have the best possible solution for your problem. Our products are maintenance-free and very durable. The use of gas springs is almost limitless and can be used in many different situations and fields. You can use springs in transportation, engineering, furniture, industry, leisure and household appliances and medical technology but also very suitable for private uses. Also a wide range of suitable connectors and mounting brackets are available for attaching gas springs.
Standard Gas Springs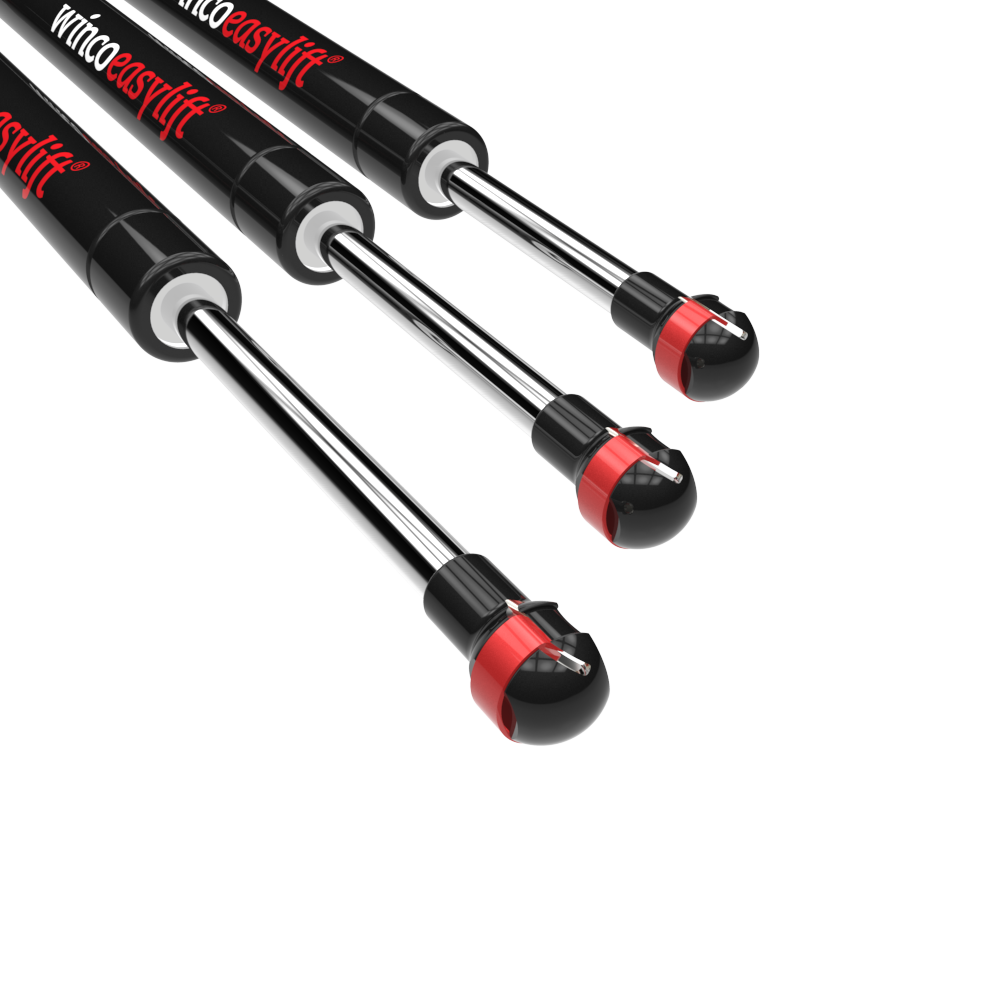 The standard Gas Springs are often referred to as Gas Shocks, Gas Pistons, or Gas Struts. Gas springs are available in a number of different lengths, forces and variations. They are also available in highly corrosion-resisting material. We use high grade stainless steel for the production of our stainless steel Gas springs. These springs are not only resistant to water, but are commonly found in food, chemical, medical, and salt water applications. Our gas springs are the perfect product to help control the motion of your lid, door or cover. The standard gas spring sits as standard in every tailgate of a car. Each gas spring is pressurized with nitrogen gas and contains a small amount of lubricating oil within the cylinder. Gas springs are used when masses or weights are to be raised, lowered or held without much effort. Unloaded, this spring is always extended. When a force greater than the compressed nitrogen fill pressure is applied, the gas spring pushes together.
As manufacturers, we offer our range of gas springs in various materials:
Steel
Stainless steel (AISI 304)
Stainless steel (AISI 316)
Lockable Gas Spring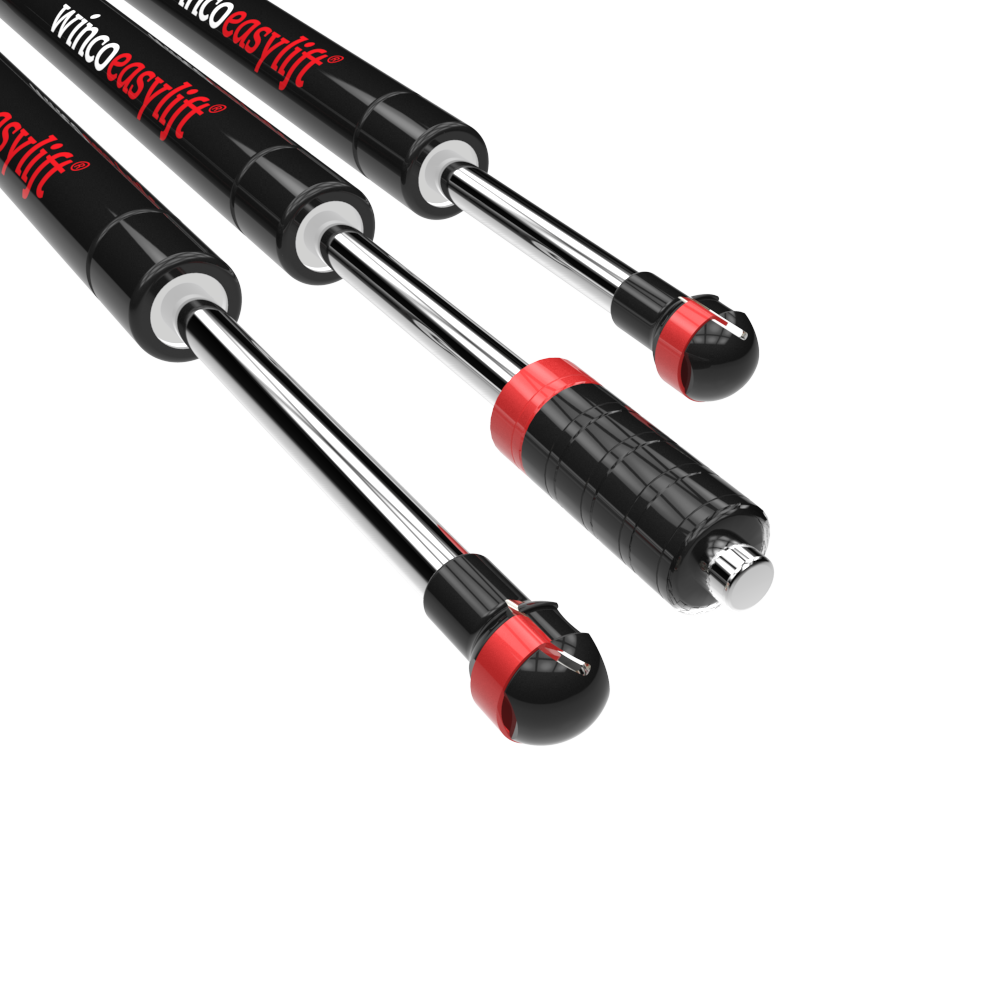 This spring basically works in the same way as a gas spring, but can be blocked continuously in any position.Forces: from 150 Newtons (= 15 Kg) to 1200 Newtons (= 120 Kg) Stroke length: from 20 mm to 500 mm. Lockable Gas Spring / Blocking can be delivered in the following variants:
Rigid blocking in the pulling direction
Rigid blocking in pushing direction
Flexible lockable gas spring
Absolutely rigid Blockable
These springs can be mounted in any position, but it is recommended to mount this spring with the release pin down to prevent dirt from entering. We also offer the Bowden cable and direct control systems
Gas Tension Springs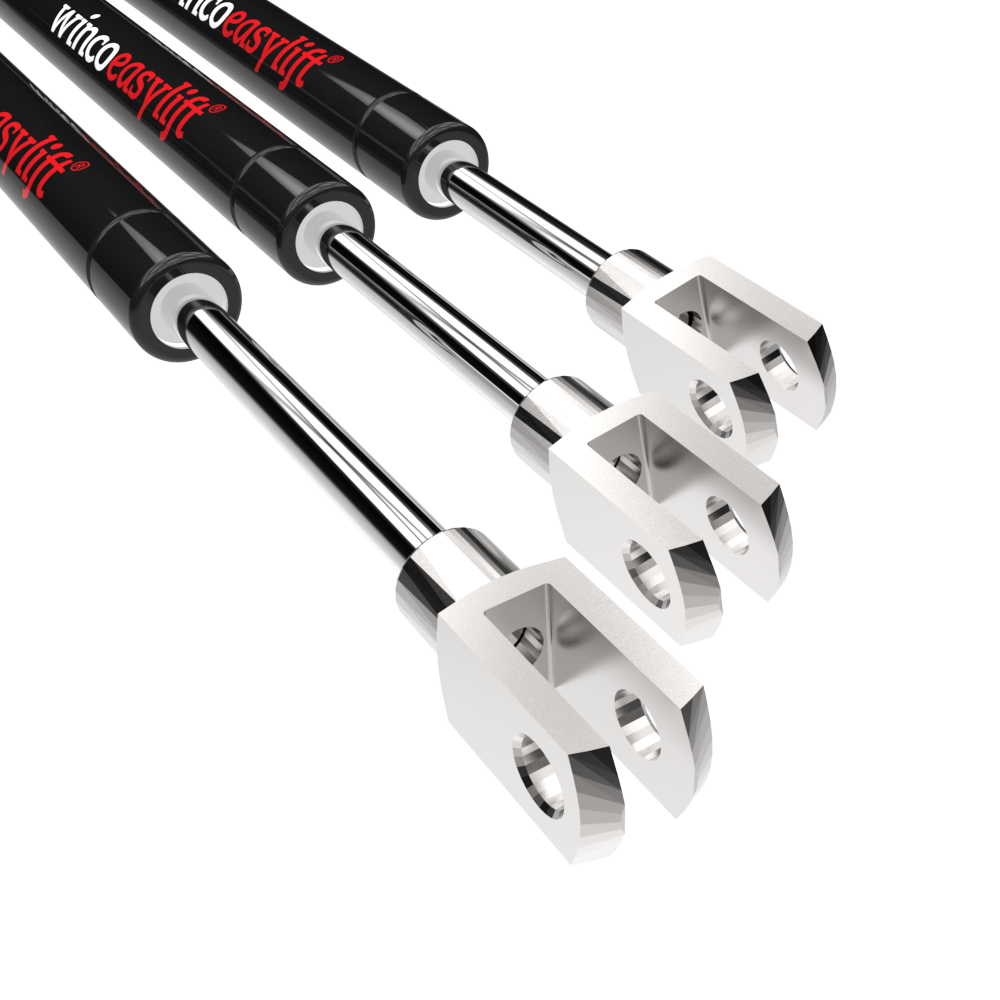 The throttle cable is always retracted by default. This type works in reverse to standard gas springs. When a force greater than the compressed nitrogen filling pressure is applied, the tension spring pushes out to the maximum extended length. This type of spring is usually used when space reasons, the application of a compression spring is not possible. The throttle cable spring is available in two versions: with end damping and without end damping. We offer the following types of gas tension springs:
Gas Tension Spring without damping
Gas Tension Spring with damping
Special requirements or custom springs
Generally most construction needs can be met by our standard products. We can deliver any force and length of gas spring from our standard product series direct from our warehouse or within a short production time. For special requirements our specialists work on a solution together with the customer to create new dimensions for their products. The telescopic spring from HAHN Gasfedern is a good example of this. As always, we make sure that you will receive your products with the requested size and force within the shortest possible time
How to Contact Winco Easylift
Our head office and warehouse is situated in Oldenzaal, in the Netherlands. We deliver our products throughout the world. If you need to contact us, you can easily reach us.
Do you have questions about our gas springs or would you like to contact our customer service? Do not hesitate to send us an e-mail or contact us personally. You reach us from Monday till Friday between 08:30 and 17:00 (GMT)
Contact details
Winco Easylift B.V.
Zutphenstraat 69
7575 EJ Oldenzaal